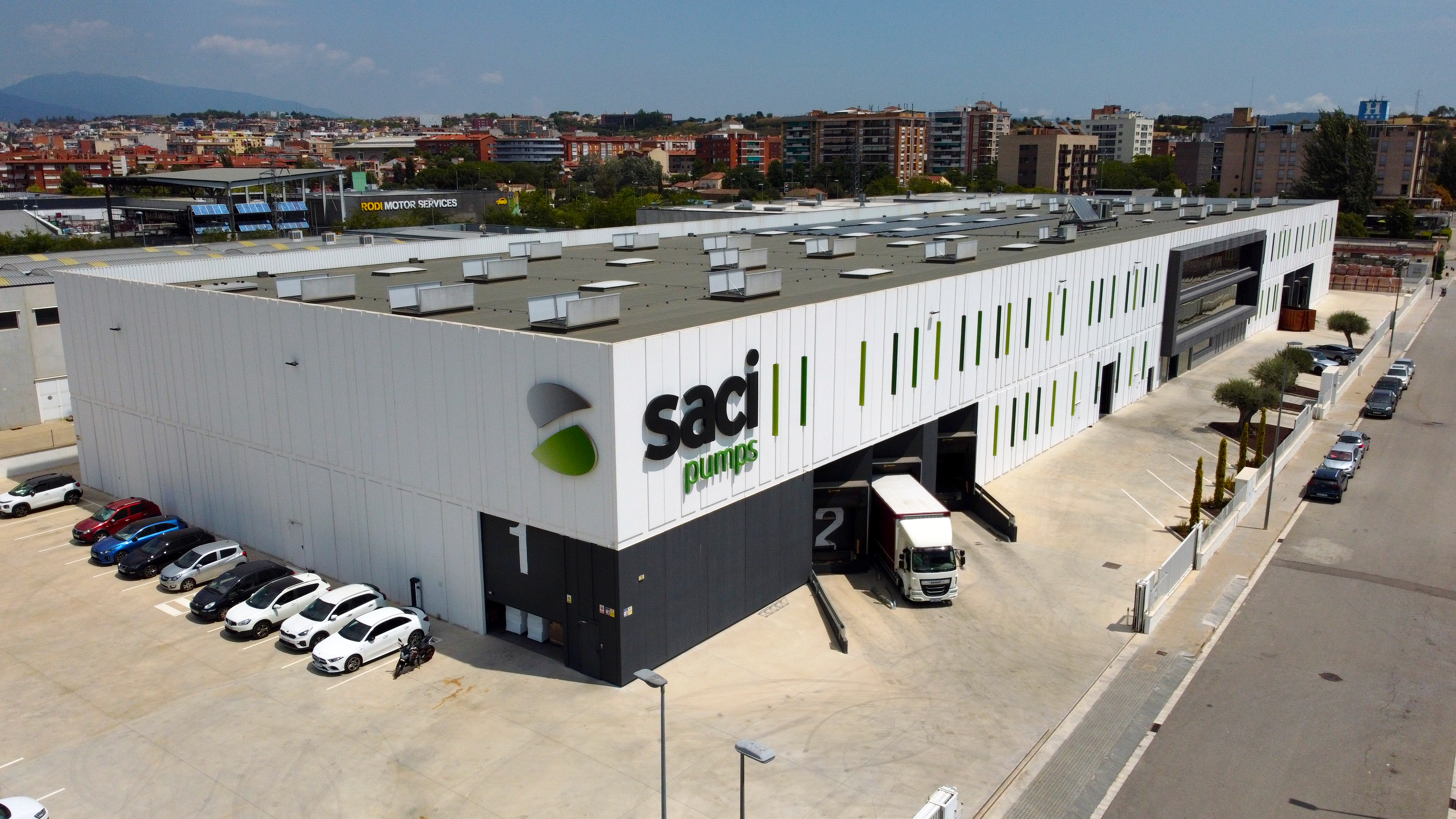 About us
Saci Pumps is a Spanish company with more than 40 years of history. Founded in Barcelona in 1976, during the year 2019 we inaugurated our new factory located in Granollers, where we will have facilities of more than 8.000 m2, that together with our delegations from A Coruña and Levante, will allow us to guarantee and optimize the level of logistic service and production to our entire network of national and international customers.
Today we are present in more than 85 countries. Our challenge is to develop and strengthen our presence around the world, positioning our brand at the highest level in terms of Quality, Innovation and Service.
We put our effort into everything we do, prioritizing respect for the environment. Which is why the vast majority of our new products are Eco-Friendly, optimizing energy consumption to maximize respect for the environment.
It is also our responsibility to maintain as a fundamental challenge to generate the minimum environmental impact in emissions of both our products and our manufacturing processes, that is why in our new Granollers Factory we have implemented a new renewable photovoltaic solar energy generation system, which it allows us to be practically self-sufficient in terms of our energy needs.
Innovation
Innovators par excellence.
Pioneers in innovations within our sector, some of the equipment we have developed are currently the international market benchmarks, both in pumps and in systems for optimizing energy efficiency and control of facilities, manufacturing some of the most revolutionary novelties on the market such as our MAGNUS pump for public swimming pool at 1450 rpm, up to 15HP of power, our range of frequency inverters [e]MOTION, [e]JOY and [e]POOL, or the integrated control systems for pumps EASYTRONIC and SMART POOL, transforming itself into true international benchmarks as well as also for the continuous improvement of our entire range of products.
All this developed internally through our own R+D+I department, a fundamental element in the spirit of our organization.
Quality
The quality of all our products is one of the key values ​​of Saci Pumps.
All the materials and components that we use are of the highest quality and of National and European origin, even so, we have implemented a strict Automatic TEST control at the end of all our production lines, which verifies 100% of our production, of way we are able to certify the highest quality standard and thus guarantee the total satisfaction of our customers.
Customer Service
The customer service and your satisfaction is our main objective.
Our entire organization is oriented to solve IMMEDIATELY any query or request from our clients.
We manufacture against STOCK, and we have a very high level of stock that covers about 90% of our catalog for immediate shipment.
Thanks to our logistics services, 92% of our national daily shipments are delivered anywhere in the Iberian Peninsula in just 24 hours from the receipt of the order.
Eco-Friendly
Respect for the environment matters a lot to us! Our development department works every day to reduce the electrical consumption of the equipment we manufacture, and all this without losing it's benefits. The new ECO-FRIENDLY line that we have developed allows us to save up to 80% of energy.
We are focused on respecting and preserving the environment and the sustainability of future generations, that's why we invest all the necessary resources to manufacture equipment capable of optimizing energy consumption and reducing CO2 emissions.